Get professional help to get out of debt.
If you want to renew your finances and get a fresh financial outlook, you need to lose all that credit card debt that's holding you back. Credit card debt creates unique challenges for your budget, because of the revolving payments. The more you charge, the more you're required to pay each month. When you're forced to use credit to cover emergencies, unexpected expenses and financial challenges, you get overextended and can't keep up. Credit counselling offers a way to regain control through professionally-supported debt management.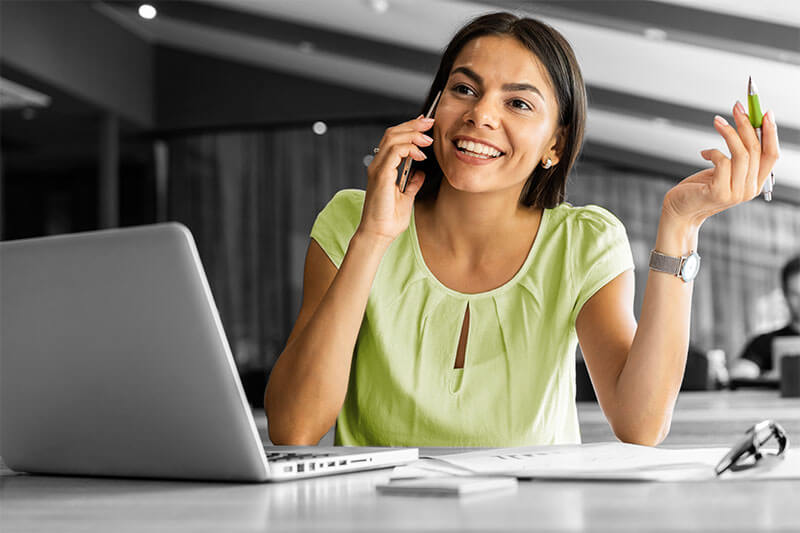 What is credit counselling and how does it work?
Consumer credit counselling is a service that helps Canadians regain financial stability when they face challenges with credit card debt. If you're struggling to pay off your balances and living paycheque-to-paycheque, a credit counsellor can help you evaluate your finances to identify the best solution for your needs.
Credit counselling services can be non-profit or for-profit. Non-profit services like New Leaf tend to be more beneficial for people who are looking for unbiased low-cost solutions to get out of debt. All of the information and processes that we describe below are for non-profit credit counselling. At the end of this guide, we also explain the differences between for-profit and non-profit credit counselling services, so you can understand how the two services differ.
How does credit counselling work?
There are three parts to the credit counselling process. The first part is entirely free and designed to help you understand your situation and the options you have to get out of debt. The second part of the process provides a low-cost solution for debt relief, known as a debt management plan.
Step 1: Free credit counselling
A free credit counselling session is typically conducted over the phone. A trained credit counsellor collects information about your debts, credit and budget. They also ask for details about how you got into debt and the financial challenges you face. This helps the counsellor get an accurate picture of your finances, so they can make recommendations.
Next, the credit counsellor reviews the options you have for getting out of debt. Depending on your financial situation, this may include:
Credit consolidation
Debt management programs
Debt settlement programs
Consumer proposals
Bankruptcy
They help you understand and compare these solutions based on your unique financial situation. This allows you to get an unbiased, informed perspective on the best solution to use in your situation. With non-profit credit counselling, a counsellor will only recommend a debt management program if it's the right solution to use, based on your needs and goals.
Step 2: Enrolling in a debt management plan
If it turns out that a debt management plan is your best option to get out of debt, the credit counsellor will help you enroll. They will work out a budget with you and help you find a monthly payment you can afford.
Then, the credit counselling team gets to work contacting your creditors. The goal is to work with your creditors to agree to accept reduced payments through the credit counselling agency. Your creditors also agree to reduce or, in many cases, completely eliminate interest charges and stop penalties applied to your account.
Once all your creditors agree to the program, you begin making payments to the credit counselling agency. You make one payment each month to New Leaf's trust account and we distribute the payment to your creditors as agreed.
Step 3: Financial literacy education
As you work your way through your debt management program, New Leaf will also provide financial education. This way, you can develop the skills you need to maintain financial stability once you become debt-free. These education resources will teach you how to:
Budget
Use credit
Manage debt
By improving your financial literacy, you'll learn how to manage your money day-to-day and use credit effectively to maximize your score and achieve your financial goals, all while learning key techniques to manage debt so you can avoid debt problems in the future.
How does credit counselling affect your credit score?
In any situation where you will need professional help to get out of debt or won't pay back the full balance of your debt on the original payment schedule, it will do at least some damage to your credit.
Free credit counselling has no effect on your score
The first part of the credit counselling with a free debt evaluation will have no impact on your score. The credit counsellor will review your credit report, but this is a "soft pull" credit check, meaning it has no negative impact on your score. This allows you to review your options for debt relief with a professional without hurting your score.
Enrolling in a debt management plan will have some negative impact
If it turns out that a debt management program is the best option for relief in your unique financial situation, then it will be noted on your credit report. Each debt getting repaid through the program will have an R7 notation (may vary by creditor), which indicates you are paying back a revolving debt on an adjusted payment schedule.
This is the same notation you may see with debt settlement and consumer proposals. However, instead of remaining on your credit report for up to eight years, the notation will only stay on your report for two years once you graduate. In addition, once each debt is paid off, you will not have to worry about creditor changing the notation to R9, which can happen with those other solutions.
Non-profit versus for-profit credit counselling
As we mention above, there are two types of credit counselling agencies in Canada, non-profit and for-profit. Non-profit agencies like New Leaf Debt Solutions offer benefits over their for-profit counterparts:
The initial credit counselling session is always 100% free of charge and you're under no obligation to enroll.
A credit counsellor will only recommend a DMP if it's the right option to use in your situation; for-profit credit counsellor often earn commissions on DMP signups.
The fees are generally lower.
You will have access to financial education materials free of charge.
Non-profit agencies are often members of industry trade associations, meaning they are required to operate under certain business and ethical standards.
A broader range of credit card companies and other creditors will be willing to work with a non-profit agency.
The cost of credit counselling
Non-profit credit counselling services are designed to provide Canadians with a low-cost way to get out of debt. That's why the initial consultation is entirely free. You can get an unbiased, expert perspective on your situation and understand your options for getting out of debt without incurring another bill.
When you enroll in a debt management program, you will pay a one-time setup and monthly administration fee. These fees will be based on your budget and how much you can afford to pay. Many provinces provide guidelines for what fees consumers pay for a DMP. Fees are then rolled into your debt management program payments, so you won't have to worry about any extra bills.